DOWNLOAD NOW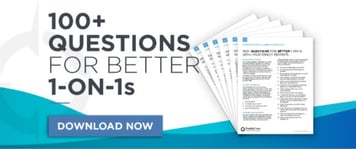 A common mindset is that leaders hold 1-on-1 meetings to monitor people's progress. By only monitoring progress, your leaders miss an opportunity to uncover other issues. When done properly, 1-on-1s can be one of your most powerful tools to engage your people. Download 100+ questions that your leaders can ask their direct reports to engage people.
In this guide, you will read about the following
100+ Questions for Better 1-on-1s with your direct reports
Tackle Difficult Issues
So, you have regularly scheduled 1-on-1s with your direct reports. Good for you. Now you need to ensure that the time is useful — for
them and for you. How do you do that, especially when the meeting is supposed to be their time, yet the inevitable power dynamic
makes it awkward for some direct reports to "lead" the meeting?

To start the Meeting
Many managers like to use the same, unassuming opener each week to start 1-on-1s. It may seem boring, but doing so encourages direct reports to drive the conversation by starting with a topic they want to talk about (remember, it's their meeting). The answer
will also help you gauge how they are feeling that week.
Be a light, not a judge. Be a model not a critic.



- STEPHEN R. COVEY
Read more by downloading the guide.