DOWNLOAD NOW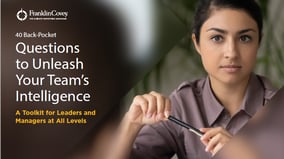 The best leaders are curious. But they don't just ask a lot of questions. They ask the right questions — the kind that focus their team's brainpower on the right problems.
A Toolkit for Leaders and Managers at All Levels
40 Back-Pocket Questions to Unleash Your Team's Intelligence
In this guide, you will find 40 smart questions with accompanying worksheets for each chapter.
Multipliers are curios and ask lots of questions. But which ones? And when?
10 Questions to Explore the Current State
10 Questions to Challenge Assumptions
10 Questions to Discover New Solutions or Ideas
10 Questions to Move Toward an Outcome
Good Questions Are a Leader's Most Powerful Tool
Good questions, when deployed with intention, can clarify and advance thinking — both yours and your direct reports' — and open the door to innovation and better performance. Here are some to use at a moment's notice. The questions in this tool are based on concepts from FranklinCovey's solution: Liz Wiseman's Multipliers®: How the Best Leaders Ignite Everyone's Intelligence.
A good leader will ask questions and let their people figure out the answers. A great leader asks the questions that focus the intelligence of their teams on the right problems.

- LIZ WISEMAN
10 questions to explore the current state
Try questions like these to seek your team members' perspective on situations, ideas, or decisions:
What does this situation look like from your perspective? What makes you say that?
Could you say more about what you mean by X?
What do you think is the root cause of this issue?
What's the most important thing we need to consider? Why?
What excites you most about this opportunity?
Read more in our guide.