DOWNLOAD NOW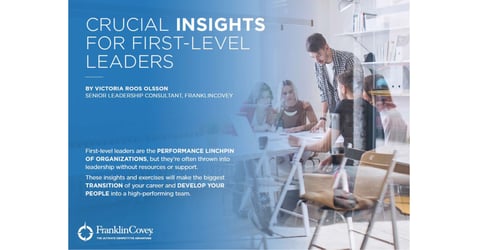 First-level leaders are the PERFORMANCE LINCHPIN OF ORGANIZATIONS, but they're often thrown into leadership without resources or support. These insights and exercises will make the biggest TRANSITION of your career and DEVELOP YOUR PEOPLE into a high-performing team.
In this guide you can read about:
Change your mindset as a leader
As a first-level leader, you're supposed to know the strengths and weaknesses of your team members, appear to have all the answers, and transition from focusing on your own results to achieving the team's results. You have to make sound decisions under ambiguous conditions, hold people accountable, and hit goals you may have had nothing to do with setting.

In this guide we've gathered six crucial insights for first-level leaders to help you develop your people into a highperforming team. You can use the included insight exercises to put these learnings into practice.
Read more in our guide.