DOWNLOAD NOW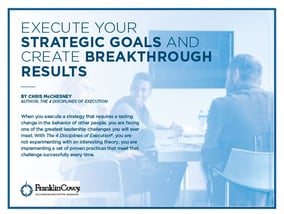 When you execute a strategy that requires a lasting change in the behavior of other people, you are facing one of the greatest leadership challenges you will ever meet. With The 4 Disciplines of Execution®, you are not experimenting with an interesting theory; you are implementing a set of proven practices that meet that challenge successfully every time.
In this guide, you will read about the following
Discipline 1: Focus on the Wildly Important
The more you try to do, the less you actually accomplish. This is a stark, inescapable principle we all live with. Somewhere along the way, most leaders forget this. Why? Because most intelligent, ambitious people don't want to do less, especially if it means saying no to good ideas. They're wired to do more, but there are always more good ideas than there is capacity to execute.